UPDATE 30th DECEMBER 2016
REPORT OF WALK ON THE 27TH DECEMBER-CARDININHAM WOODS
On a fine December morning a group of ten of us met at the car park in Cardinham Woods to start our 4 mile walk on the Lidcutt Valley route. It was good to see some old faces, no I don't mean old in that way but some we hadn't seen for a while.
We decided to take the longer route which included the long climb up the hill, but as it says in the leaflet "we are rewarded by views over the forest" and an opportunity to have a blow whilst pretending to look at the view.
Our photographer of the day Sue then had the opportunity to take our only snap of the walk and therefore does not appear in the photo but you do have a mention in this report.


After the decent and walk around Lady Vale Bridge and an increase in the number of walkers and dogs on this flat stage we head towards Woods Cafe and a stop in the tent for a welcome drink, scone or even soup.
A Happy New Year to all the group and we hope to see you again in 2017 with our first walk on 10th January.
**********************
UPDATE 19th DECEMBER  2016
A WALK IN CARDINHAM WOODS  - 27th December
         1) SHORT 3 MILE CIRCULAR ROUTE IN THE WOODS TO STRETCH OUR LEGS
       2) POSSIBLE/PROBABLE VISIT TO WOODS CAFE IN CASE WE ARE STILL HUNGRY
      WE WILL MEET AT THE COMMUNITY CENTRE AT 10.00AM FOR A 10.15AM DEPARTURE
      PLEASE LET US KNOW BY SATURDAY 24TH IF YOU WANT TO COME ON WALK AND CAN PROVIDE
      TRANSPORT.
       A VERY HAPPY NEW YEAR TO ALL OUR WALKING GROUP
       REGARDS,
       CHRIS AND JANET

UPDATE 14th DECEMBER  2016
REPORT OF WALK ON THE 13TH DECEMBER
KELSEY HEAD AND CUBERT COMMON
On a day with a forecast of reasonable weather particularly on the North coast seventeen walkers set off from the National Trust car park at Holywell to walk the 5 mile circular walk taking in the coast path and the in-land return route.
Turning left from the toilet block we headed towards the sand dunes and tried to navigate a path towards the coast path-we did get there eventually! At low tide a shipwreck can be seen which is though by many to be the SS Francia lost in 1917 as it sailed out of Newquay. There is however some confusion as some reports state that the Francia, a 700 tonne steamer from Argentina, was sunk 4 miles off shore. Also visible off Penhale Point are Carter's or Gull Rocks as the surf roles in on the beach at Holywell Bay This impressive view can be seen in the second series of the popular BBC programme Poldark.
Walking northwards to the end of the dunes we pass two tumuli and remains of an old settlement on Kelsey Head with rocks known as the Chicks just off shore. Round the headland we find the delightful cove called Porth Joke where seals are quite often found-it says in most guide books. Well we saw about six enjoying the waves and floating horizontally as they acted like surfers on holiday. After rounding this large finger like estuary we head towards Pentire Point West before somebody remembered that we had not taken our usual photograph.
Glyn managed to capture the photo enclosed with the Goose rocks in the background before we turned off the coast path and towards our lunch stop at The Bowgie Inn.  Another photo from our walk available here.

Most sat outside on the numerous picnic tables with hot drinks and watched the surfers in the waves whereas some ate inside with a roaring open fire-the food and drink provided was all very welcome.
After the break with the weather becoming a little cloudier we pressed on uphill and towards Cubert Common and across its western shoulder and over The Kelseys and past the Holywell Golf Club-the location for one of our walkers golfing triumph-and past the sand dunes towards the village again and the car park.
During the drive back to Lostwithiel the rain started and the light started to fail early in the afternoon making us feel that we had certainly the best part of the day.


UPDATE 5th DECEMBER  2016


1) 5 MILE CIRCULAR WALK ON SANDUNES, COAST PATH AND GOLF COURSE
2) MEDIUM TO EASY WALK WITH EXCELLENT SEA VIEWS
3) FACILITIES PART WAY AROUND AT THE BOWGIE INN, CRANTOCK FOR DRINKS ETC
4) FROM TIME VIEWPOINT BEST TO TAKE PACKED LUNCH OR FOOD AVAILABLE AT INN
5) START AT NATIONAL TRUST CAR PARK HOLYWELL (FREE TO MEMBERS £2.50 TO NON-MEMBERS-BRING YOUR CARDS)


WE WILL MEET AT COMMUNITY CENTRE AT 10.00AM FOR 10.15AM DEPARTURE. PLEASE LET US KNOW
BY FRIDAY 9TH DECEMBER IF YOU CAN JOIN US AND IF YOU CAN PROVIDE TRANSPORT.

REGARDS,
CHRIS AND JANET

UPDATE 30th NOVEMBER  2016
REPORT OF WALK OF THE 29TH NOVEMBER
TINTAGEL AND TREBARWITH STRAND
What an excellent day for walking with full sun most of the day and no wind even on the coast path. Twelve of us set off from the car park in Tintagel to walk the planned 3.5 mile circular route. Just a note before we start that the walk was measured after at 3.53 miles-we must be getting better as we used to be up to 2 miles out with our string gauge and a map.
From the car park we followed the path signposted "Parish Church and Glebe Cliff "
down the hill passing the Chapel of Our Lady of Fontevrault on our left before rising up again and over one of many stiles on the walk-most being granite and quite tall for any with little legs. Passing some stables we walked alongside some fenced and well tended fields to come out by Trevillick Farm and with three paths to follow, one of which we tried on the recce only to find a blockage, we walked along the lane to the main B3263 and walked about 20 yds before turning right onto a track again and towards Trecknow. At the entrance to this small hamlet we again turned right to head towards the coast path and a view of Trebarwith Strand and our first photograph with Gull Rock in the background.


Heading downhill we also see a sign on a gate "Bluff Centre" which we find out is a modern guest house set on 9 acres of land with sea views.
When one comes down you also have to go up and we rejoined the South West Path to go north and the Lanterdan Pinnacle, a tower of uncut rock 24m high, can be seen.
This was left by the quarry workers because it contains inferior slate whereas the trimmed and cut slate was lowered to cargo ships that lay alongside the base of the cliffs.
Walking again on the path overlooking the cliffs and past the Tintagel Youth Hostel, once the offices of the nearby cliff quarry we followed the path to the church of St Materiana. The existing church may have been created in the late 11th or 12th century whilst the tower may be 13th or 15th century in date. We all had an interesting look around this impressive building before following again the coast path on the seaward side of the church towards the the great headland of The Island and the famous ruins of the monastery and castle and the centre of the tales of King Arthur.
After looking down on the site we walked up the steep hill and back to Tintagel and our lunch stop.




The photo shows us sitting outside the café, still shielding our eyes from the sun as we decided to sit outside and enjoy the excellent food before heading home with tired legs and full tummies.


****************
UPDATE 21st  NOVEMBER  2016



                                      TINTAGEL TO TREBARWITH STRAND

          1) 3.5 MILE CIRCULAR WALK USING COAST PATH AND FIELDS
          2) RELATIVELY EASY BUT MUDDY IN PLACES
          3) WONDERFUL SEA VIEWS AND KING ARTHUR'S CASTLE
          4) FACILITIES AVAILABLE IN TINTAGEL
          5) WALK STARTS AT CAR PARK IN CENTRE OF TINTAGEL



    NICE RANGE OF CAFES IN TOWN FOR THAT EARLY LUNCH OR PICNIC

  WE WILL MEET AT COMMUNITY CENTRE AT 9.45AM FOR 10.00AM DEPARTURE.
  PLEASE LET US KNOW BY FRIDAY 25th NOVEMBER IF YOU CAN JOIN US AND
  IF YOU CAN PROVIDE TRANSPORT.

  REGARDS,
  CHRIS AND JANET


                             REPORT OF WALK ON THE 8TH NOVEMBER
                                          A QUICK CHANGE TO PLAN B

With the weather forecast indicating that heavy rain was approaching Cornwall from the west and that it was expected to hit the north coast at around 1.00pm it was decided to switch the walk venue as the advertised Hollywell walk is very exposed.

We decided to reduce our travel time and still give ourselves a National Trust car park, a sea view, somewhere to have a hot drink or something to eat but unfortunately no sand dunes-you can't please everyone!

We parked at Coombe Farm just outside Fowey and walked under cloudy skies towards Polridmouth Bay and our photograph stop with a beach backdrop and showing our gang of 10 and one taking the photograph.



Turning eastwards above Lankelly Cliff and around Southground Point we walked on the South West coast path with the very calm sea below passing Southground Cliff and towards the remains of St Catherine's Castle and into Fowey and to the harbour side. At about 12.15 some stopped to eat picnics and the others squeezed into the Dwelling House to part take of some delicious food and beverages with an agreement to re-group again at 1.00pm.

With some full(er) tummies we left the café with drizzle just starting and headed back towards Readymoney and the shorter route up the slippery path back to the car park arriving back in Lostwithiel at about 2.15pm with the heavy rain predicted now due to arrive at about 5.00pm.

I'm not sure how many miles we walked but we all had a good time, some excellent food and good company.


1) 5 MILE CIRCULAR WALK ON SANDUNES, COAST PATH AND GOLF COURSE
2) MEDIUM TO EASY WALK WITH EXCELLENT SEA VIEWS
3) FACILITIES PART WAY AROUND AT THE BOWGIE INN, CRANTOCK FOR DRINKS ETC
4) FROM TIME VIEWPOINT BEST TO TAKE PACKED LUNCH OR FOOD AVAILABLE AT INN
5) START AT NATIONAL TRUST CAR PARK HOLYWELL (FREE TO MEMBERS £2.50 TO NON-MEMBERS-BRING YOUR CARDS)




WE WILL MEET AT COMMUNITY CENTRE AT 10.

00AM

FOR 10.15AM DEPARTURE. PLEASE LET US KNOW


 

                          REPORT OF WALK ON THE 25TH NOVEMBER

                                LUXULYAN VALLEY CIRCULAR

 

Eighteen of us set off from the Black hill car park on this walk and historic journey through this area which was designated part of a World Heritage Site in 2006 due to its major concentration of early 19th century remains, the majority of which are the result of the work of Joseph Treffry.

He was born in Plymouth as Joseph Thomas Austen to Joseph Austen, a former Mayor of Plymouth and Susanna nee Treffry. He changed his name by deed poll after the death of his mother's brother William Esco Treffry in 1808, when he inherited the family estate at Place House Fowey.

His name lives on as we head upwards, cross one of the many leats and towards the Treffry Viaduct. This was constructed between 1839 and 1842 from local granite and was the first stone viaduct to be built in Cornwall and consists of 10 arches spanning 200 metres which rise 27 metres from the valley floor. The viaduct also doubled as an aquaduct -it has a water channel beneath the railway track which was precisely sloped to feed the upper most Carmears leat.

Turning left before we cross the viaduct we walk on the old tramway with the granite blocks and in some parts the old rails still present. We then pass an old ruined building with large stone fireplace still intact and head downhill till we come to the site of a large wheel pit built in 1841and used to haul wagons up the incline until the 1870's. After this date it was re-purposed to grind quarried china stone a material used,mixed with china clay, to form porcelain after kilning. Again turning left and going uphill we pass a part of the 2 mile long watercourse constructed by Treffry in the 1820's to supply water to his Fowey Consols copper mines on Penpillick Hill.

 

After a short break to admire the view of the sea from this high point we head downhill past a fenced off mineshaft, the mineshaft being part of the Prideaux Wood mine one of the copper mines consolidated into the group of 5 known as the Fowey Consols. These were the considered to be one of the deepest, richest and most important of the Cornish copper mines and employed some 1680 people.

 

We then continued to reach a flight of steps departing to the left at a wooden post-the instructions then say "at the post keep right to stay on the path". However we did go down these steps to realise at the bottom that something was not quite right.

With knowledge from some fellow walkers we pressed on and although we missed walking alongside the River Par and the clay dryers we were soon back at the car park. The dryers will I'm sure feature in a further walk in this interesting location so those walkers with extensive knowledge,you know who you are, should be ready to answer some difficult questions.






 NOTICE OF SHORT WALK ON THE 25TH OCTOBER
          LUXULYAN VALLEY CIRCULAR-WOODLAND AND INDUSTRIAL


Water Wheel, Luxulyan Valley


1) 3.5 mile moderate walk using old tramways and footpaths
2) No facilities on route-bring a drink with you
3) Recommend walking boots/shoes as some parts wet
4) Start walk at Black Hill car park to the west of Lanlivery


We will meet at Community Centre at 10.00am for a 10.15am start.
Could you let us know by FRIDAY 21ST if you are coming on walk and if are able
to offer lift.
Regards,
Chris and Janet
Contact me by Sunday 9th if you would like to join this walk (you can do the morning walk only if you choose to) and if you are able to offer transport.
UPDATE 21 SEPTEMBER 2016
      A SHORT WALK TO ST. WINNOW
St Winnow Churchyard 


All rights reserved by lindsayjsouthgate
1) 3.5 Mile circular walk from Lostwithiel to St Winnow using minor roads, tracks and footpaths
2) A few minor hills but nothing too strenuous
3) Opportunity for lunch at St Winnow from Angie's or a picnic on the esturary shoreline
4) Take a look around the church or farm museum.

We will meet at Community Centre at 11.00am.

If you could let us know by Sunday 25th if you want to go on walk. No transport required.

Regards,
Chris and Janet


PS The next walk on October 11th will be lead by Annie
*****************
REPORT OF WALK ON THE 13TH SEPTEMBER
FROM POLPERRO TO LOOE.
After delaying the start of the walk by 1 hour due to a bad weather forecast for early in the day seventeen of us mustered outside the Sawyers Guest House at Hannafore to catch the 11.43am bus to Polperro in the now hazy sunshine. The bus was about 8 minutes late and by the time we reached the Crumplehorn stop in Polperro very full.
Most of us were able to use our bus passes but "Young David" as we will call him had to spend about half his pocket money (£2.95) on the single fair.
Walking down into the old fishing village of Polperro towards the harbour and the small cottages in narrow streets we pass many pasty shops and tea rooms which we all resisted to join the South West Coast path for the 4.5 mile walk to Looe. This is a very pleasant walk with many ups and downs and steps which I had failed to mention in my introduction to the walk(can I put it down to age?). We had good sight, as we left the harbour, of military manoeuvres in the bay with two helicopters and a navy vessel involved.
Our first realisation after a short walk was that the foot path before Talland Bay had not been reinstated since the storms of 2014 which meant that we had to do a slight detour and walk down the long road into the bay and our lunch stop. For some it was the café and for others a picnic on the beach. A pity we had not brought our swimming stuff as by this point it was hot and humid with sun and little wind.
(Click on image for larger view)

Starting again, after use of facilities and a photograph-not at the same time, we continued on the coast path around Hore Stone and with Portnadler Bay on our right our first view of St George's or Looe Island.


The island, the former home of the Atkins sisters who purchased the 22 acre island in 1965, was left to the Cornish Wildlife Trust who preserve the island as nature reserve.
Two wardens live on the island and look after the day to day running and care of the sheep and monitor the bird life which nests on the slopes.
After a few more hills we arrive at Hannafore and a nice sea breeze with many people sat on the chairs and enjoying what has turned out to be an excellent sunny day with none of the rain forecast.
With the tennis court café closing early some of us walked into West Looe to have a final drink and scone/teacake before getting back at about 5.00pm
Looe Panorama  -  Click on image for larger view
Photo Credit:   Some rights reserved by Lostwithiel U3A Member Robert.Pittman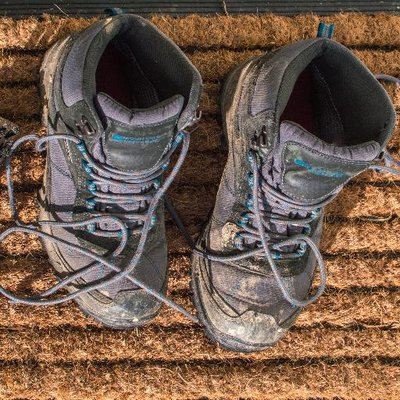 Just to let you know this is taking place between 10-18th September organised by Looe Tourist Information Centre.
 A few of the walks we have done before, but for those who wanted longer walks there is one that's 11 miles and takes about 7 hours.  More information about this and other walks on
Looe Tourist Information website
Regards,
Chris and Janet

THIS IS NOT A U3A ORGANISED WALK BUT SEVERAL OF OUR MEMBERS TOOK PART LAST YEAR AND ENJOYED THE DAY.

THE WALK LINKS FOUR MEDIEVAL CHURCHES AND THE WALK STARTS AT ST. MARY BRADOC TO BOCONNOC TO ST. NECTAN  TO FINISH AT ST. WINNOW

BRING YOUR OWN PICNIC TO BRADOC FOR 12.00 WHERE TEA/COFFEE WILL BE PROVIDED

WALK STARTS AT 1.00 WITH TEA AT ST. NECTANS CHURCH

FUNDS RAISED SHARED WITH CORNWALL HISTORIC CHURCHES TRUST

LOOK FORWARD TO SEEING MANY OF YOU THERE.

REGARDS,

CHRIS AND JANET
Update: 10th August 2016
REPORT OF WALK ON THE 9TH AUGUST - AROUND TREVOSE HEAD
Cornwall at its best-as one of our group said as we looked out on Constantine Bay as eighteen of us set off at the start of our walk. The sky was blue with hazy sunshine, the white surf breaking over the golden sand as we looked ahead to walk the half mile along Constantine Bay towards some steps which lead over a rocky ridge and above Booby's Bay.
At very low tide the shipwreck of the SV Carl can be seen in this bay, the vessel was in Cardiff Docks in 1914 when war broke out and was impounded by the authorities. Three years later it was decided to tow her to London and during the operation the vessel broke free during a storm and it grounded in the bay.
Keeping left along the clifftop path we see the giant Round Hole where you can hear and with great care see the tide rushing into the deep hole. Not venturing onto Dinas Head we go onto Trevose Head; an area recently in the news as it has been purchased by the National Trust. It is an area designated as a site of Special Scientific Interest for its geological and biological attributes.
Passing the car park near the impressive lighthouse which was first lit on 1st December 1847 and more recently a new horn was installed in 1963 and the lighthouse was fully automated and became unmanned in 1995.
Continuing east along the cliffs and above Chairs Rock and Merope Rocks we come to Trevose Head Lifeboat station the current home for the Padstow Lifeboat. The station was re-sited to Mother Ivey's Bay in October 1967 from Hawkers Cove due to the river silting. The boat can now launch into deep water at any state of the tide.
The station with its impressive shape roof makes an ideal backdrop for another group photograph.
Passing Mother Ivey's Cottage and the broad expanse of the bay we press on to Cataclews Point and,with three good benches and a view over Harlyn Bay, an ideal lunch time stop for our various picnic treats and revelations of some programme on Channel 4-looks like we will have to wait until next Monday.
Walking along the very busy Harlyn Bay a popular surfing venue with large car park, which some of our group had already visited, we cross the bridge to make our return journey but not before comfort breaks for some and ice creams for others.
Wearing our reflective jackets we walk along the road before using footpaths to cut off some of the road and go through the grounds of Harlyn House to aim for the golf course and club house to return to the cars.
The mileage was assessed by our experts with gadgets as between 5.75 and 8 miles(for those with short legs) so our initial indication of 6 miles was considered a success worthy of applause.
We hope to see you all on September 13th for our next walk
*****************
Update: 14th July 2016
REPORT OF WALK ON THE 12TH JULY-AROUND RAME HEAD
An excellent day for walking with mottled sunshine and slight breeze as 14 of us met in the car park on top of Wiggle Cliff after getting there by various routes. The cliff lives up to its name by providing food plants for a range of caterpillars which can be seen as butterflies in summer.



Descending from the car park we walk on the coast path and past, you don't need more than one guess , to Wiggle Hut; a building that is owned by the YMCA-an organisation set up in 1844 in London "to provide low-cost housing in a safe Christian environment for rural young men journeying to the cities"
We continue on this path and into a field onto Rame Head an area of Outanding Natural Beauty (AONB)- an area included in one of the 33 regions in England with that designation. There is a single Cornwall AONB which is itself subdivided into 12 sections.
Onto the path which leads to a rock outcrop from where you have great views across Whitesand Bay and on the opposite side Looe and Looe Island was just visible on this clear day. We now head for the chapel on the headland and just as we try and decide who wants to walk to the chapel on a short detour we meet a U3A Walking Group from Saltash who have just come from Kingsand.
A group photograph seemed a good idea.
Click on image for larger view

The chapel is dedicated to St Michael and was first licensed for Mass in 1397.
We then travel east passing the path to the National Coastwatch Station-similar to that seen on our last walk from Charlestown. This is one of 50 stations around England and Wales which is run by volunteers.
The next major landmark is the wreck site of The Coronation a 90 gun man-o-war built towards the end of the Stuart period and which capsized in 1691. Much naval activity can be researched along this coast line and we saw two frigates and a helicopter taking off whilst on our walk.
We were soon into Cawsand a delightful coastal village just next to the equally delightful Kingsand.
Until 1844 the border between Celtic Cornwall and Saxon Devon lay between Cawsand and Kingsand and the boundary line can still be seen on the side of the building.
We then all had a good and very welcome lunch fish and chips, pasties, ice creams-some with flakes, scones-some with cream, toasted tea cakes-some with extra butter, crab sandwiches----what a treat for all-all we have to do now is walk back to the car park.
Past the gun emplacement and up the steps and then more steps to the fields above the towns and to the driveway to Wringford Farm.
From here we pass by an old bunker, the bottom of someone's garden and along the lane from the hamlet of Wiggle to the car park.
A great walk which we all enjoyed and measured at 6.2 miles.
A further treat was also in store for 5 lucky walkers who did not have to return home immediately-a drink and home-made cake supplied by Sue and Rob and a tour of his garage and workshop.
Our next walk is on Tuesday 9th August-further details to follow.
*****************
Update: 6th July 2016
NOTICE OF WALK ON THE 12TH JULY- A CIRCULAR WALK AROUND RAME HEAD


A) 6 MILE WALK AROUND RAME HEAD USING MAINLY COAST PATH WITH ITS NATURAL CONTOURS(UP AND DOWN)
        MODERATELY DIFFICULT WALK
 B) WE WILL BE STARTING AT WIGGLE CLIFF CAR PARK PL10 1JY AND STOPPING FOR LUNCH IN CAWSAND
 C) DRINKS, TEA CAKES WITH PLENTY OF BUTTER OR MAIN MEALS CAN BE PURCHASED OR BRING A PICNIC
D) PERSONAL FACILITIES ARE ALSO AVAILABLE AT KINGSAND/CAWSAND

 PLEASE LET US KNOW BY FRIDAY 8TH JULY IF YOU ARE ABLE TO COME AND/OR OFFER TRANSPORT.
 WE WILL MEET AT COMMUNITY CENTRE AT 10.00AM FOR START AT 10.15AM (NOTE SLIGHTLY EARLIER TIME)

 REGARDS,

 CHRIS AND JANET

   PS THIS IS THE WALK WE INTENDED TO DO IN MAY BUT POSPONED  BECAUSE OF THE SEVERE WEATHER FORECAST
   

*****************

REPORT OF WALK OF THE 28TH JUNE-FROM CHARLESTOWN TO CARLYON BAY

On what is becoming typical of many walks this year 21 of us set off in weather which was forecast to become worse with the prospect of heavy rain blowing in later in the morning. In view of this we changed to plan B and decided to do the walk straight away and have a drink after the walk.
We all managed to park in Charlestown, although some had to walk further than others, and headed off to the harbour to find the coast path going east. There were 2 square riggers in the harbour but no film makers on this occasion. It is hard to believe that as recently as the 1950's you would have been walking through a thick coating of white clay dust and that the house fronts would have also been covered. Clay was carried down to the port along the wide road from St Austell, firstly in horse drawn carts and latterly in lorries to be tipped down wooden chutes into the waiting ships.
China clay boat loading at Charlestown 1973  - Click for larger view
© Copyright Trevor Rickard Creative Commons Licence.
More information

We turn left where the public conveniences used to be and if we look behind towards the wooden knoll overlooking the port that once held a defensive battery and along the coastline towards Black Head, a 500 year old Bronze Age cliff fort.
We followed the coast path until passing the rear of Carlyon Bay Hotel and continued along Sea Road admiring the many examples of 1930's architecture. After passing the Porth Avalon Hotel we first missed the sharp turn and then retraced our steps to go between two high hedges until we reached Beach Road.
Looking behind us it is incredible to think that this area of manicured suburbia was up to the 1950's an area of mining spoil tips and riddled with shafts. We continued until we reached a grassy triangle and turned towards a house named Anneth Lawen  (Cornish for happy joyous place). Travelling on the old mining track constructed in the 1700's for exporting tin to South Wales for smelting and by passing West Polmear Farm we exit onto Higher Quay Road and back to the start. Eight of us manage to find somewhere comfortable for a drink and snack as the rain begins and we are pleased that we did not stop for a drink at the start.
Click on image above for larger view

As usual this year there will only be one official walk in July and August and back to the normal short and long walks in September.
Update: 20th June 2016
     NOTICE OF WALK ON THE 28TH JUNE - FROM CHARLESTOWN TO CARLYON BAY




A) EASY CIRCULAR WALK OF 3.5 MILES
B) COASTAL HERITAGE, COAST PATH AND SUBURBIA
C) PARKING AT PAY AND DISPLAY OR ROAD SIDE IN CHARLESTOWN
D) WE WILL START IN CAFE IN CHARLESTOWN FOR TEA/COFFEE BEFORE WE WALK
     AND HOPE TO STOP AT COAST WATCH SITE ON ROUTE
E) WE WILL MEET AT COMMUNITY CENTRE AT EARLIER TIME OF 9.45AM FOR 10.00AM START
    FOR THIS MORNING ONLY SHORT WALK

COULD YOU LET US KNOW BY FRIDAY 24TH JUNE IF YOU WANT TO GO ON WALK AND IF YOU ARE ABLE
TO OFFER TRANSPORT OR IF YOU WANT TO GO DIRECT TO START.

REGARDS,
CHRIS AND JANET
Update: 16th June 2016
REPORT ON WALK OF 14TH JUNE
A SEMI CIRCULAR WALK FOWEY TO GOLANT
Seven walkers, optimistic that the weather would be kind to us (and it was), set off for this walk having driven from Lostwithiel to a spot with free parking in Hay Hill Close in Fowey.  From Hay Hill Close, we took a footpath that runs from the  Meadow Views flat complex down the road to the Bodinnick Ferry (B3269); we turned left onto that road and joined the Saint's Way having turned right onto Penventinue Lane.
The Saint's Way, or Forth an Syns, is a long-distance footpath that cuts right across Cornwall from Padstow on the north coast to  Fowey on the south. Roughly 27 miles long, the route only came to light in 1984 when local ramblers investigating public paths found a series of forgotten granite stiles. The footpath features historic remains, ancient footbridges, old tracks and fascinating churches and passes through a rich and varied landscape of valleys, woodlands, pastures, moors and ancient field systems.
You can reach Golant by walking on the upper or the lower footpath.  We used the former on our way to Golant.  The vegetation was very lush and when we reached the top of the ridge, we got stunning views over the River Fowey, Penpol Creek, Cliff and St Winnow Point.  In the distance, we could see one of the ospreys nesting platforms erected in the land owned by Haye Farm on the bank of Penpol Creek thanks to a project led by the Friends of the Fowey Estuary (we actually saw them better on the way back).  
We had a choice of venues for our lunch break:  the Cormorant Hotel, the Fisherman's Arms or the green.  The sun was not out, so unfortunately we could not put to the test the Human Sundial at the south end of the green which was designed, crafted and built by villagers out of local slate in celebration of the millennium.
Our return journey along the lower path took us past the creek where Sawmills, the recording studio is situated.  We thought that the property had become a holiday cottage but in fact it is still operating as a studio.  Here is the information that can be found on their website: "The Sawmills was established in 1974 as one of the first residential recording facilities in the U.K. Set in its own unspoilt tidal creek on the banks of the River Fowey in Cornwall, the Sawmills boasts one of the most picturesque and atmospheric locations for a recording studio anywhere in the world. The main building is a 17th century water mill; the site has a documented history stretching back to the 11th century. Over the past 3 decades the Sawmills has evolved into a unique balance between modern technology and the outstanding natural beauty of the Cornish countryside to produce a perfect environment for creative work. Recording artists from XTC to Robert Plant, The Stone Roses to Oasis, The Verve to Supergrass and Muse, have all remarked on and benefited from the special creative atmosphere that the Sawmills provides".
As we approached the final stage of our walk, thanks to one of our fellow walkers John Smith, we were able to have a look inside Hunkin Boatyard and the staff talked about the two gigs they were working on:  a new one commissioned by the Royal Marines based in Plymouth and an old Newquay gig that they are restoring.   The new gig is made of elm which comes from Sweden.
In summary, here are some statistics on our walk provided by Tony Smith and Chris Short and their mobile phone Apps: duration including all stops 3hrs 24min; distance 4.8 miles; height gain 851ft; maximum altitude 306ft; minimum altitude 32ft; calories used:  570.  And if I may add:  stiles:  0!
Chris and Janet will be back to lead the next walk scheduled for Tuesday 28th June.
Annie Singer    

Update: 5th June 2016
Fingers crossed that the lovely weather continues.
Kind regards